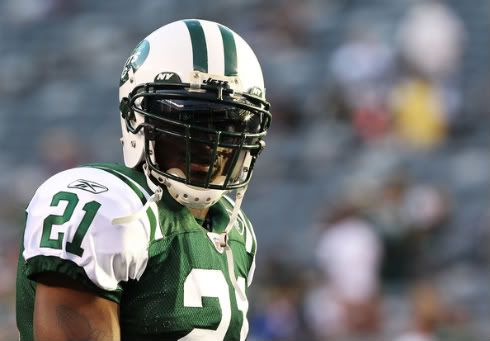 http://i81.photobucket.com/albums/j206/acwilber/LaDainianTomlinsonWashingtonRedskinsvkoe-9ShIfsil.jpg
Week 13
Jets vs. Redskins

The Jets escaped again last week at home vs. Buffalo. Now they travel to Washington, who has had a momentum boost with Grossman taking over at QB again. Washington matches up really well against the Jets, because the Jets weakest link right now is their offensive line. Sanchez has been getting hit far too much and therefore throwing more interceptions. Besides that, Hall of the Redskins has spoken about Sanchez and his tendency to stare down the receiver he is going to right after the snap. Teams are recognizing this, and this has also been resulting in more interceptions and pick sixes. He needs to break this trend. He is giving the other teams a heads up as to who he is throwing to and very seldom does he go to his second or third options. He needs to do this, and this week they are getting LT back, so he will be able to at least check down to LT if his first option is not there. Sanchez is key to the Jets success. In Jets wins this year, he has 13 TDs and 6 INTs.

In their losses, he has 5 TDs and 5 INTs.
He will need to take what his offensive line gives him, hopefully they step up, and he can buy some time to make big plays.

The Jets need this game if they want to stay in the playoff hunt.
Jets (-3) Win
Colts vs. Patriots
In 1992, the Buffalo Bills covered a 20 point spread twice. That was the last time a team covered a 20+ spread.

The

Colts are starting UCONN alum, Dan Orl
ov
sky, and I just don't think they will be able to hang close, plus the Patriots love to keep scoring even when the game is out of reach.
Patriots (-21) Loss

Titans vs. Bills
Bills are reeling, even after almost pulling off a victory at the Meadowlands. Stevie Johnson was fined for his endzone celebration and this guy lets things get to him. I think he might not have a very productive day, and without him it is hard for the Bills to get the big plays. Tennessee has a solid defense and maybe Chris Johnson has finally found his rhythm on offense. If he did, he can have another huge game against a bad Bills defense. I look for this game to be very close, but I think that Tennessee is playing with more confidence at this point in the season.
Titans (+1) Win


Chiefs vs. Bears

This is the matchup of injured QBs. The Chiefs are going with Palko as their starter. They have Orton on the bench who would be an immediate upgrade, but they are sticking with Palko. The Bears are sending out Hanie again. Last week they kept it close in Oakland. They need to stick to the running game and not take away carries from Forte. If Forte has another week sharing carries with Barber, then I expect him to start shutting it down and making a statement that he does not deserve to split carries. I am taking Kansas City with the points, but I think Chicago will win if Forte doesn't have to share again.
Chiefs (+8) Win
Raiders vs. Dolphins

Raiders are traveling across the country, and Miami is well rested after their Thanksgiving nail biter. Oakland has been playing good football as of late with Carson Palmer getting a grasp on the playbook. McFadden will still be out, but Bush continues to carry the load well. With Tebow coming up strong, Oakland has to keep their foot on the gas and not let the Broncos tie the division, but Moore and Ford are not going to be starting again, limiting what Palmer can do. I think it will be close, but I do not know if Oakland can win again without three starters on offense. I think it will be close either way. Heyward-Bey needs to have a more productive day than last week if they want to beat a hot Miami team on the road. I

like the Raiders getting 3 points in this one, even though they might lose by a point or two.


Raiders (+3)
Loss

Bengals vs. Steelers

Here we go again, another test for the Bengals. After keeping things close against the Steelers and Ravens in consecutive weeks, they put up a stinker against the Browns at hom

e last week but still won.

They were lucky to win that game and now have to travel to Pittsburgh to face the Steelers again. The Steelers almost let one slip away against the Chiefs last week in an ugly game. I expect a playoff type battle in this one. After the close games both these teams played last week, I expect another close one between these two teams.
Bengals (+7)
Loss
Falcons vs. Texans

Falcons
have been playing well, and White has been a reason for it. In the last two weeks, he has put up numbers that we have come to expect in past seasons. Two weeks ago, he had 7 catches for 147 yards. Last week he caught 10 passes for 120 yards and a TD. With this kind of production, the Falcons are a very dangerous team. The Texans will be starting Yates again, so they will rely heavily on Foster and Tate and Atlanta will be able to stack the box. I like Atlanta in this one.
Falcons
(-1.5) Win
Panthers vs. Buccaneers
Both these teams are out of the playoff hunt. The Bucs have lost 5 in a row and Freeman is not starting because of a shoulder injury. Cam Newton on the other hand, is having a stellar season, but the rest of his team is not that good. I would look for a huge game from Newton and Smith. Carolina is ranked 6th in road passing, and 4th in road rushing. This is up against Tampa's 29th home passing defense and 17th home rushing defense ranks. I like Carolina to win this game.

Panthers (-2) Win
Broncos vs. Vikings

I believe in Tebow. After last weeks comeback and overtime win, I can not do anything but believe in the Broncos and what Tebow has done for this team. Earlier this week he was asked by head coach John Fox to give a speech to the team, and the team responded well. This kid is getting it done and I will take him until he gives me a reason not to.

Broncos
(even) Win

Packers vs. Giants

Giants look awful right now, but they need to put up a good game here to end all of the negative talk. I think they keep it relatively close here. With Bradshaw coming back, it might ignite the running game. Eli continues to pile up yards as Cruz keeps putting up monster numbers. Don't forget about Nicks on the other side of the hash marks. The Giants have the weapons to keep it close, but do they have the heart? The Packers are...well...the Packers. They will probably put up 35 points in this one, it is just a matter of Eli keeping up. They are the best team in the league, and if they are clicking on defense, then the Giants will get blown away. But in a huge game before playing Dallas, I think the Giants put up a fight and build some momentum for next week.
Giants (+7) Win
Ravens vs. Browns
Browns have Hillis back at running back, but I think the Ravens are a better team, but not as good as they believe they are. But, if they are serious contenders in the AFC, then there is no reason they do not beat the Browns by more than a TD.
Ravens (-7) Win
Rams vs. 49ers
The Rams are not a good team this season and the 49ers are 7-0-1 against the spread in their last 8. Got to keep it going this week.
49ers (-14) Win
Cowboys vs. Cardinals
I think the Cowboys blow the Cardinals away in this one. They are without Austin again, but Laurent Robinson has stepped in and put up huge numbers. He has scored at least one TD in five straight games, and in those five games, he has a total of 7 TDs. There is no reason to expect anything different this week. Murray is still running with the top backs in the league and Romo is in the zone lately. Dallas wins this game easily.
Cowboys (-4.5) Loss
Lions vs. Saints
The Saints are starting to destroy teams again at home. This game worries me if I am Detroit. After all the publicity with the Suh stomping incident and now a car crash, it is going to be interesting to see how they respond. Stafford has been turning the ball over like crazy since week 8, when he fractured his index finger. He has thrown 9 interceptions in 3 weeks. If he continues this, then look for another bad loss for Detroit. New Orleans has been utilizing Jimmy Graham perfectly. He had 5 catches for 84 yards and 2 TDs. He is unstoppable, and Brees is even better. He had a historic game last week and is on fire, but I think Stafford finds Calvin Johnson in this game and they have a big day, good enough to keep it close.
Lions (+9) Loss
Monday Night Football
Chargers vs. Jaguars
I don't see any way that the Chargers don't win this game. Yes they have lost six in a row, but they have a lot more skill than the Jags, so it will be hard to understand if they lose this one. They need to pull off a win here to not be completely embarrassed. The Jaguars are bad and if the Chargers don't show up tonight, then they probably won't show up for the rest of their games. Rivers needs to prove he has some fight in him. I am going to think that the Chargers will show minimal effort, and that should be enough to win.
Chargers (-3) Win
TNF: Seattle (+3)
Won

Check my post for thoughts on this weeks games here...
http://nargonsports.blogspot.com/2011/12/week-13-review.html