Week 16

Being in the finals of my league, this week I am going to focus on players that my opponent and I have, and which ones I like and which ones I don't.
http://i171.photobucket.com/albums/u304/datsyuk1340/6a00d8341c630a53ef010535e7f550970b-.jpg
Big Players
QB - Cam Newton - Mine - I feel like he has a great matchup against the Bucs and should get it done in the air and on the ground.
WR - Roddy White - Mine - This game will be a shootout with all eyes on these two teams on Monday night. Expect a game in the 30's and a lot of yards to be thrown around.
RB - Arian Foster - This was a no brainer, against the Colts. He put up huge numbers, but either way is by far the best RB either of us have.
TE - Jimmy Graham/Dustin Keller - Toss up here, I have Graham, he has Keller. I think both have great matchups and could put up huge numbers.

I'd Rather Not...
QB - Eli Manning - His - going against a Jets defense with Revis. I think he will still get 300 yards, but don't expect a 400 yard game like we have seen.
WR - Hakeem Nicks - His - He will be on Revis island all day, if the Jets stay in man. If they switch to zone, look for him to get open in the middle.
RB - Kevin Smith/Kahili Bell/Blount - Mine - All guys I am debating in my flex. All have upside, but all could be in blowouts, except Smith. But Smith is injury prone so he is risky.
.............................................................................................................................................
Week 15
It's that time of the year when your playing for it all, or you are no longer checking your lineup. This week, I see a few matchups I really like, and a few I hate.

Big Plays

QB - Philip Rivers -
I think some people might bench him against the Ravens if they have another good starter, but I would still start him over a lot of people this week. He is hot right now, and when Rivers is hot he usually can beat anyone.
WR - Pervy Harvin
- He is Ponder's go to guy, and this week goes against the Saints. I think they will connect for a big play or two.
RB - Felix Jones
- He has his legs under him again and looked good last week. Another soft matchup this week, so he should produce well.
TE - Jermichael Finley
- With Jennings down, Finley is going to be used more. He has a great matchup this week, and although he has not had the season everyone expected, I think this week he puts up huge numbers.
Questionable Plays
QB - Joe Flacco
- I don't like this matchup on the road in San Diego. He has been having decent games but I think he struggles in this one.
WR - Steve Smith
- I am not saying he will have a bad game, but I think people under estimate the Houston defense. They are better than people think, but I still assume around 100 yards, just not a ridiculous game.
RB - Frank Gore
- Gore only rushed 10 times last week. He clearly is not nearly 100% with his health, so I don't think he has a mid-season Gore game.
TE - Aaron Hernandez
- It's Gronk time in New England. Although Hernandez still has value, Gronk might get double the plays that Hernandez gets.
..................................................................................................................................................

Week 14
Well it's nice to have a bye in the playoffs this week, so I won't have to worry about my lineup, but for those of you who do have to worry, then here are some guys I am keeping an eye on this week.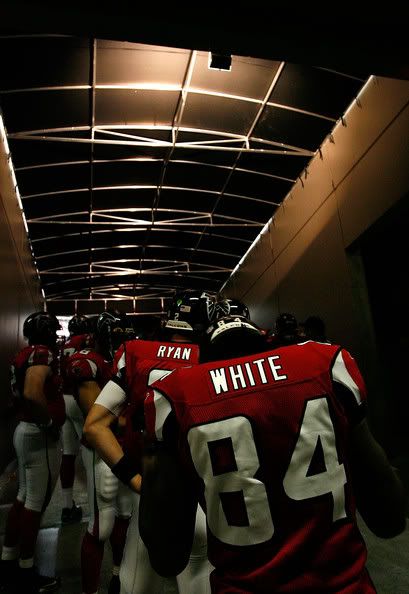 http://i893.photobucket.com/albums/ac134/VictorBarnard
/NFL/RoddyWhiteII.jpg
QB - Ryan Fitzpatrick - I like him against San Diego this week. The Bills have been playing terribly, but San Diego gave up points to the Jags, so I expect them to allow a few to the Bills.
WR - Roddy White - White had a mediocre game last week, 4 catches for 51 yards and a TD. This was after totaling 17 catches for 267 yards in his previous two games. Up against the Panthers, I expect both teams to put up points and quickly, so look for White to rebound in Carolina.
RB - Roy Helu - I was wrong about this guy last week. He had 100 yards and was the only player to rush the ball for the Redskins in the game. He is going up against New England this week and should have an even better week than last.
RB - My wild card pick in deeper leagues is Ryan Grant. Starks is out this week, and although he won't get catches out of the backfield, he should be given an opportunity to run a few times. They figure to take a big lead in this game, and hand the ball over to the running game, so Grant might provide some help in deeper leagues.
TE - Tony Gonzalez - Staying with Atlanta on this one, Tony Gonzalez continues to put up another great season, and will have another big game here.
I'd Rather Not...
QB - Caleb Hanie - I'd rather grab someone off the free agent wire...anyone...over Hanie against the Broncos. Von Miller is back, so this might be a painful game for Hanie.
WR - Dwayne Bowe - Palko throwing to him against the Jets, I would be worried about him this week.
RB - Beanie Wells - Going against one of the best rush defenses in the league. Even though wells is having a good season, I'd be a bit leery with this matchup.
TE - Mercedes Lewis - He has not been doing much of anything this week, and with so many TE's with good matchups, I'm going to have to take him.
.
.................................................................................................................................................

Big Players
http://i36.photobucket.com/albums/e15/daboyz219/Romo.jpg
QB - Tony Romo - This guy has been on fire as of late, and playing in Arizona this week. Expect another huge week between Romo and Robinson.
WR - Laurent Robinson - Can't take one without the other. Love all the Cowboys in this matchup really, add Murray to this list at RB.
RB - Matt Forte - Forte had to split carries last week and was not happy about it. I think he might get 250 total yards this week versus Kansas City.
TE - Jermaine Gresham - He has only 6 catches for 34 yards in 3 games vs. Pittsburgh. Going out on a limb here but he is due.

I'd Rather Not...
QB - Kevin Kolb - He is going to try to start this week, but I don't like the matchup here. If Arizona gets behind in this one he might be able to get some yards but it doesn't seem like a very good situation for Kolb. If he ends up not starting, I'll take Rivers again (who I really wanted this year, but didn't get thankfully.)
WR - Brandon Lloyd - Going up against San Fran on the road. Bradford suffered a setback and if he starts, he probably will not be 100%. This is going to hurt Lloyd and he won't be able to be very productive.
RB - Roy Helu - Finally has been given the confirmation that he will be their starter. He has to go against the Jets this week who are fighting for the playoffs. I think they shut him down in this one.
TE - Fred Davis - The matchup against the Jets scares me, not to mention I think that Grossman will be going to Moss more than he will be looking to go to Davis.

12/2/12 4:32 p.m.
--Moore, Ford, and McFadden all ruled out for the Raiders vs. Miami this week.
--McNabb clears waivers, can be signed starting Monday.
--Suh will still serve 2 game suspension, his appeal was denied.

11/30/11 11:22 a.m. - According to sources, Vick and Maclin ruled out for Thursdays game in Seattle. Young to get his third straight start. Riley Cooper remains a valuable player with Maclin out and with Desean Jackson's troubles as of late.
...................................................................................................................................................
I have yet to address fantasy football, but I figure I would give a few guys that I expect big things from this week, and a few I expect to disappoint.
Big Players
QB
- Cam Newton - Newton, who had a great game except for the interceptions last week, get a great matchup this week against the Colts. Look for a huge game from him.
WR
- Desean Jackson - He has something to prove since being benched, and last week put up 88 yards, and had a spectacular punt return against the Giants. He could have a huge day against the Pats at home.
RB
- Michael Bush - Facing a good Chicago defense but he just continues to put up good numbers with McFadden being hurt.
TE
- Aaron Hernandez - With Gronkowski getting all the attention now in NE, look for Hernandez to get a few extra catches. Remember how good he was in the early part of the season? I look for a glimpse of that Hernandez in this one.
I'd Rather Not...
WR
- Dwayne Bowe - Tyler Palko will be throwing to him again, and although he had 87 yards last week, I think Pittsburgh will shut him down this week. A bad matchup, and an average at best QB means bad numbers this week.
QB
- Philip Rivers - Leads the league in interceptions and with the team fading quickly, I see a frustrated Rivers losing concentration in this one and not putting up numbers we would expect him to.
RB
- Chris Johnson - Terrible all year, not about to start believing now.
TE
- Fred Davis - Going across the country and competing with Moss for receptions. I think he has a sub-par day today.
My league is a 2 QB, 3 WR, 2 RB, 1 TE, 1 W/R/T, PPR exaggerated points league. With Fred Jackson and Best going on the IR this week I took a hit. But in my starting positions this week I have:
Stafford, Newton, Dez Bryant, Welker, Roddy White, D.Murray, Blount, Sproles, and Jimmy Graham.
On the bench:
Ogbonnaya, Vernon Davis, Mark Sanchez, (TB) Mike Williams, Santana Moss, Kevin Smith. Just to give an idea of who I would and would not start.