http://i50.photobucket.com/albums/f333/bchandler22/2005.jp
LSU Comes Back To Win the SEC
Georgia started this game strong, forcing LSU to a 3 and out, followed by an impressive drive that led to a field goal. It could have been a touchdown if not for a ball that should have been caught in the endzone. They then executed a successful onside kick to get the ball back. Georiga was faced with a 3rd and long, when Mitchell dropped a pass with seven and a half minutes left in the first quarter that would have given them a 10-0 lead. They had to attempt a field goal, and missed it to turn the ball over on downs. Georgia continued to stay hot on defense, forcing another 3 and out. Georgia would ultimately drive down the field again and get into the redzone. They scored a TD on a pass from Murray to White to give Georgia a 10-0 lead over #1 LSU.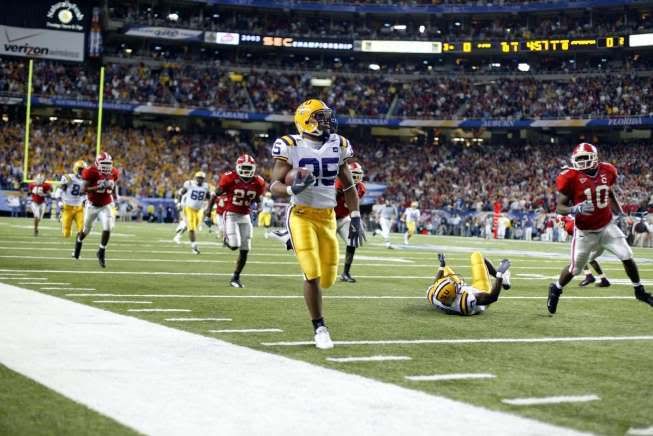 http://i50.photobucket.com/albums/f333/bchandler22/2003.jpg
The second quarter saw more of the same for LSU on offense, with
no first downs in the half
. After a booming punt from Georgia, LSU's Mathieu returned a punt for a 62 yard TD to make it a 10-7 game. Before the punt return TD with 5:48 left in the half, LSU had nothing going. LSU's Simon came up with a tremendous play to stop Georgia on 3rd and long with under a minute left in the half. LSU QB Jordan Jefferson was 2 for 8 with 7 passing yards. LSU had a total of 12 offensive yards in the first half.
The second half saw a complete change in momentum. Georgia fumbled on the third play of the half, which was recovered by Mathieu on the Georgia 27. This set up a 15 yard Kenny Hilliard rushing touchdown to finally give LSU the lead, 14-10. A Georgia 3 and out led to another TD by Hilliard on LSU's next drive. Georgia would get a first down on the next drive, but then would turn the ball over, leading to yet another Hilliard touchdown, this time on a pass from Jefferson to make it 28-10. Blue added a 48 yard rush TD in the 4th to make it a 35-10 game. LSU added a pick 6 to seal the game off, 42-10. LSU awaits who they will play for the BCS Championship.