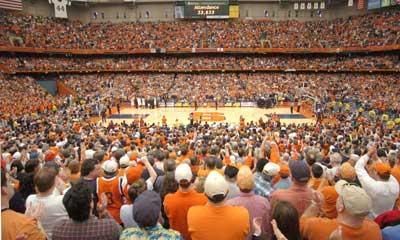 http://i255.photobucket.com/albums/hh134/spmcevoy/Dome3-5-06.jpg
UPDATE: Syracuse Wins 72-68 to Remain Undefeated
This game was thrilling. It had everything that you would expect in a top ten matchup and more. The atmosphere in the Carrier Dome was electric. In the early part of the second half, the teams were going back and forth with their baskets, but Syracuse started to get a grip on the lead as the second half went on. They built it up slowly as the half went on. Syracuse's largest lead was 9 points and Florida's was 5. The rebound advantage went to Syracuse, which was huge in them winning this game. Coming into this game, rebounding looked like the one area that Florida excelled in and held the decisive edge. For Florida, Boynton led the team with 22 points. Brandon Triche led Syracuse with 20 points and was 9 for 9 in free throws. Scoop Jardine had 7 assists and 16 points. Kris Joseph had a subpar game, going 5-14 for 14 points. Coming off the bench, C.J. Fair had 9 points and 11 rebounds. Syracuse's 3 point shooting was awful, going 3-17, but they were still able to hold on in this one. It was an exciting game, that moves Syracuse to 8-0 as Florida falls to 5-2. Syracuse proved that they are for real in this one.
............................................................................................................................................

Preview
Amongst the allegations against former assistant coach Bernie Fine, Syracuse suits up for their 8th game of the year. They have been able to remain focused since the allegations began to surface, which resulted in the firing of Fine. Their long tenured head coach, Jim Boeheim, has been questioned as to whether he should still be coaching while an investigation is taking place. The university has decided to stick with Boeheim as he adamantly denies that he knew of anything involving Fine. Boeheim has seemed genuine with his comments, and has openly answered the media's questions for him.
While all the legal issues surface and get sorted out, Syracuse basketball is among the top teams in the country. They are currently #3 in the rankings and hold a 7-0 record. Although they have yet to go on the road, they will be tested tonight at home. Florida comes in with a 5-1 record and they are ranked 9th in the country. Florida is led by junior guard Kenny Boynton, who is averaging 18.5 points per game. They have one of the best scoring teams in the nation, putting up almost 91 points per game, 3rd best. They also have great board presence, lead by Patric Young who averages 7.7 boards a game. The team as a whole are averaging almost 43 rebounds per game, 6th best in the country. Syracuse on the other hand, does not have the same presence on the boards that Florida has, ranked 56th overall. The guy to watch tonight for Syracuse is reigning Big East player of the Week, Kris Joseph. He leads the team with almost 15 points per game, is second on the team with 5.7 rebounds per game, and shoots over 40% from three point range. He can do it all and will play a big part in this game tonight if Syracuse wants to continue their winning streak. Syracuse puts up an average of 83 points per game and have the home court advantage in this one. The Carrier Dome can get crazy, and I expect it to be louder than ever for this big early season matchup. It should be a back and forth game and it will allow us to see how much Florida has learned since their loss on the road to then #3 Ohio State in the second game of the year. For Syracuse, we will get a gauge on just how good they are, with their first top ten matchup of the year. This should be a well played game and a great way to start the first weekend of December off.