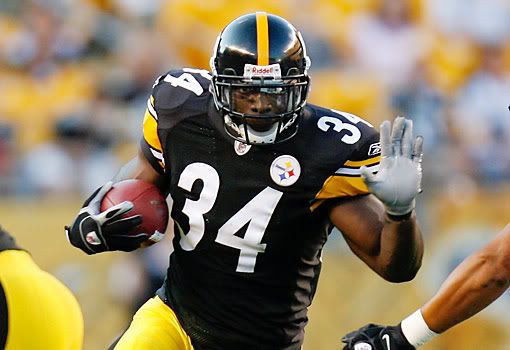 http://i1136.photobucket.com/albums/n481/drcsteelers/rashard-mendenhall.jpg
1 p.m. games
New England started slow, but is starting to get things going in Foxboro, 17-3. Pittsburgh put up 28 in the second quarter and lead Cincy 28-7. Tennessee winning 17-10, Chris Johnson another good game already. KC and Chicago are struggling in this one without QBs. Forte left with a knee injury as well. Oakland is being shutout by Miami, 13-0. Minnesota took a late lead against Tebow and lead 12-7. Newton putting on a show in Tampa as they lead 21-12. Jets are playing very sloppy and are lucky to still be close against Washington, trailing 13-10. Atlanta got behind early against Houston, but managed to get a field goal in this one. Yates is impressing at QB for Houston, 10 for 17 with 154 yards and a TD.
4 p.m. games
http://i158.photobucket.com/albums/t101/jtdeluca9229/rodgers.jpg
The Giants trail 21-17 as they lost the lead with just over a minute left in the half. They went on to turn the ball over as the offense was not aware of a live ball that came out of Manning's hands. The Packers recovered and gained a few yards but Crosby missed a field goal to end the half, his second miss of the year. Starks has left the game with an ankle injury. In Arizona, Laurent Robinson has left the game with a shoulder injury. Robinson had 41 yards before exiting. Felix Jones has 25 yards, and Murray has 23 on the ground. Romo is 10 for 18 with 130 yards and a TD. Dez Bryant has 3 catches for 40 yards and a TD. Giants and Packers have a back and forth game going in New York. In Cleveland, Baltimore leads 10-0 at halftime as Rice is having a great first half, 107 yards and a TD. Williams is also having a good rushing game for Baltimore with 43 yards. Flacco is 7/14 with 102 yards. In San Francisco, the 49ers have a 9-0 lead. Smith is 13 for 18 with 128 yards and Gore has 46 yards on the ground. St. Louis is without Bradford and can not get much going, Feeley has only 68 yards passing and Jackson only has 9 yards rushing.
Monday Night Football

Rivers and the Chargers started to turn it around at the end of the half, looking to avoid their seventh straight loss. After San Diego took a 10-0 lead in the first, the Jags stormed back for 2 TDs in the second to take a 14-10 lead. But the Chargers were able to regain the lead at the half, 24-14, on a couple Rivers TD passes with under two minutes left. Rivers finished the half 16 for 21 with 202 yards and 2 TDs, and Mathews had 56 yards on 6 carries. Tolbert added 21 yards and a TD. Jackson has 72 yards and a TD receiving. For Jacksonville, Gabbert is 11 for 15 with 139 yards and 2 TDs ad an INT. MJD has 50 yards rushing and receiving has 87 yards and a TD.