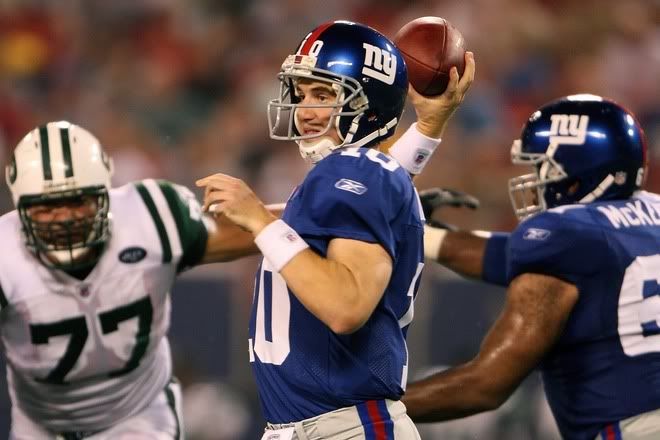 http://i183.photobucket.com/albums/x146/nfl_mitchell/New%
20York%20Giants/fullj.getty76040070cm007_new_york_jets.jpg
Giants
v
s
.
Jets
More on this game later in the week, but key things: Giants and Dallas winner next week wins the division and Jets sit in 9th now in the AFC standings. The need a lot of help with one week left. A fumble to a safety, and a pass interference on Plaxico decided this game.
Jets (-3) Loss

Dolphins vs. Patriots
Pats rally and come all the way back. Clinch a first round bye.
Dolphins (+10) Win
Browns vs. Ravens
Baltimore held on to win and fight for a first round bye and the division.
Browns (+13) Win
Vikings vs. Redskins
Vikings surprise the Redskins for their third win in this one.
Redskins (-6.5) Loss
Raiders vs. Chiefs
Chiefs should have won this, but went to OT and lost. Now the Raiders have a chance to lose the division, but still make the playoffs next week if things play out
correctly
.
Chiefs (-2) Loss
Bucs vs. Panthers
Cam Newton sets the all time pass record in this one and
adds
a 49
yard
TD run. He is turning this team around and they
have
a
bright
future.
Panthers
(-7.5) Win
Rams vs. Steelers
Steelers are trying to keep up with the Ravens for the division and a first round bye in the AFC.
Rams (+13) Loss
Eagles vs. Cowboys
Cowboys had nothing to play for, but the Eagles played with a lot of heart and handled them. Comes down to next week in New Jersey for the Cowboys.
Eagles (+3) Win
Chargers vs. Lions
Lions clinch a playoff birth for the first time in 13 years and take care of Rivers.
Lions (-1.5) Win
49ers vs. Seahawks
49ers come back late and win on a field goal in Seattle.
Seahawks (+2) Push
Broncos vs. Bills
Blowout here, Bills defense steps up as Tebow doesn't protect the ball. Denver still control their own fate next week. A win against KC, and they're in.
Broncos (-3) Loss
Jaguars vs. Titans
Titans win at home to help their playoff hopes. Currently in 8th place in the AFC. Don't cover though.
Titans (-7.5) Loss
Cardinals vs. Bengals
Cardinals don't complete the comeback, and lose to the Bengals. Bengals now claim the 6th spot as of now and are in the playoffs.
Cardinals (+6) Push
Bears vs. Packers
The Packers dominated again and
clinch
home field advantage throughout the playoffs.
Packers (-12) Win
MNF
Falcons vs. Saints
Brees- the new all time single season passing leader. Saints dominate and win 45-16.
TNF
-
http://nargonsports.blogspot.com/2011/12/thursday-night-football-week-16_21.html
Happy Holidays!!!