http://i563.photobucket.com/albums/ss77/
evan_june/Jon-Jones-0004.jpg
Jon "Bones" Jones vs. Lyoto "The Dragon" Machida
The main event was living up to be an exciting thriller. Machida was using his speed and ability to jump in and out of danger perfectly hitting the champ like he never has been, even staggering him in a small flurry. It seemed that Machida was becoming looser, and waiting for the next opportunity to strike. Round 2 would start off the same and after an initial stuffed takedown, the champ would eventually get one. A small cut would lead to a quick doctor check but nothing else. Once the they resumed Machida worked his way back to his feet and was caught with a quick left, as he went with the right. He fell to his knees but quickly popped up. However he left his neck exposed, which allowed the champ to latch on a guillotine and elevate Machida's neck. He refused to tap and after about 8 seconds went to sleep and so did his dreams of regaining the title. This makes Jones the first champ since Liddell to have at least two straight title defenses, now lets see if he can make to four like Liddell. This win capped an amazing year that saw Jones defeat the likes of Ryan Bader, Shogun, Rampage Jackson, and now Lyoto Machida.
http://i898.photobucket.com/albums/ac187/rthrmgl/zzznogueria.jpg
Frank Mir vs. Minotauro Nogueria
The co-main event was a very anticipated rematch between Frank Mir and Antonio Rodrigo Nogueria. In the rematch Nogueria was looking to prove a point, that his illness in the first fight rendered him unable to perform at a top level, which eventually lead to his loss. Well it seemed to be that he was telling the truth as he was quick with his punches and used excellent head movement. Pushing Frank Mir up against to the cage to possibly look for the takedown. A minute later and the former champ had Frank Mir in a world of trouble with a 1-2 combo that left his foe on rubbery legs falling to the ground. The followup punches almost made the ref jump in and stop the contest. Mir would go on to survive and secure a kimura from the bottom rolling Nogueria over several times before snapping his shoulder, and prompting the stoppage.
Tito Ortiz vs. Lil Nog

The first main fight of the next scheduled three began with Tito Ortiz facing Lil Nog. Ortiz did exactly as expected coming out strong with a few punches putting his opponent against the fence to try to work for a takedown. That tactic seemed to be going well for Tito in the opening minute until Lil Nog pushed off the fence and blasted Tito with a left hand. It obviously hurt him, but the way he covers asked for Nogueria to swarm all over him and eventually hit him with a knee to the stomach, the same area where Machida and Rashad had him hurt. While turtling on the ground covering his face, Nogueria teed away at his ribs with about five straight punches that left the ref no choice but to halt the action giving him the TKO win. Tito was grimacing in pain and very slow to rise from the ground that left many to wonder if he broke his ribs.
Brian Ebersole vs Claude Patrick
Brian Ebersole vs Claude Patrick proved to be what I expected, both men trying there best to get the win, with Ebersole on occasion inviting him to stand and trade. However after 3 long rounds of what turned out to be a wrestling match with dirty boxing, a winner was announced. Ebersole ended up taking a split decision victory but not after some thrilling submission attempts in the final minutes of round 3, attempted by Patrick. This contest was extremely close with two major mma websites having different decision winners as well.
Chan Sung Jung vs. Mark Hominick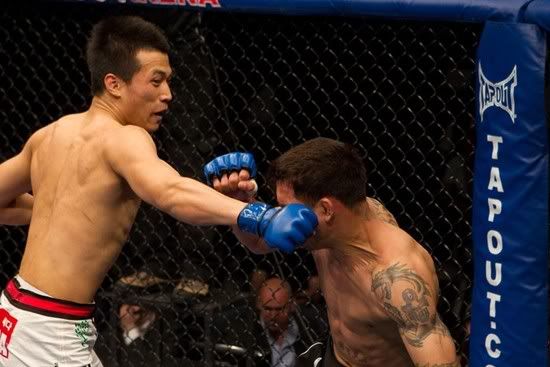 http://i879.photobucket.com/albums/ab359/iFudger/iCAV5G3W9.jpg
UFC 140 Bones vs Machida proved to be one of the more entertaining pay per view cards in a long time. The card started off with the Canadian Mark Hominick fighting in front of a home crowd, but for him his entrance was longer than his actual fight. In what looked to be a little cheap shot hook thrown right after touching gloves, the Korean Zombie blasted him with a straight right, that staggered him and planted him on his butt. A few follow punches notched Chan Sung Jung with a TKO victory 7 seconds into the very first round. It looks that I was little off when I said that Sung is not a striker and should stop acting like he is.

Written by Andrew Consiglio
Andrew Consiglio contributes his MMA expertise to nargonsports.blogspot.com. He has a wealth
of
MMA knowledge and will lend his MMA
analysis
to my site
periodically.