http://i430.photobucket.com/albums/qq21/emriegirl/milesaustin.jpg
Week 14
Game of the Week
Giants vs. Cowboys
The Giants are coming off a thrilling game against the Packers that they almost won. They now play their biggest game of the year against the Cowboys. A win for the Giants means they will hold the lead in the NFC East. A win for the Cowboys pretty much ends the Giants season, as they will fall 2 games back. They do have another matchup this year against each other, but a lot will have to happen for the Giants to lose this and still be in contention when they meet again. Dallas is coming off a loss that they should have won in Arizona. I think they respond well in this game against the Giants, but it will not be easy. Both teams have electric offenses that can explode with one play. With the Giants getting Bradshaw back last week, we saw Jacobs run the ball well again. When he is used in a secondary role, Jacobs is very effective, and last week carried 8 times for 59 yards and a TD. The Giants need to keep the pressure on the Dallas defense, the same way they did against the Packers. If they play as well as they did against the Packers, then they will win. They need to play with their A game for the second week in a row. Dallas needs to get the loss out of their heads from last week and focus on this weeks game. A win here gives them control of the division, and both teams have tremendous opportunities in front of them. I have a feeling that the Giants win this game. But both teams have something rare that we don't see with many teams...they each have three
great
wide receivers. For the Giants, it looks like Manningham will play. And for the Cowboys, it looks like Austin will play. Nicks, Manningham, and Cruz on one side, and Austin, Bryant, and Robinson on the other? That can only mean both QBs throwing over 300 yards and a high scoring game. It is going to be a shootout, with the Cowboys utilizing Murray more this week than last, and finding Dez Bryant and using his height and physicality to pull in a few extra catches. The Giants will mix it up with Bradshaw and Jacobs as well as the aerial attack. This game might go back and forth a few times, but after 60 minutes, the Giants will come away as the leaders of the NFC East.
Giants (+3)
Vikings vs. Lions
The Vikings will be without Peterson. Ponder is playing, but he is reportedly hobbling in the warmups. I think it is going to be tough for him to have a good game, even he has said he probably won't be 100 percent. The Lions have lost three of their last four and five of their last seven. Detroit is 5th in the league in passing yards and Minnesota is 26th in passing yards allowed, so on paper, the Lions should win this game easily. Ponder has been utilizing Harvin very nicely lately. Last week he had 156 yards with 2 TDs, and in the last 3 weeks has 4 TDs. He has also had five rushing carries per game the last three week, adding to his total yards each week. Stafford is turning the ball over at a ridiculous rate, 10 picks in his last 4 games. He has to play a bit safer and not give the Vikings opportunities on defense. I do not think the Ponder will be able to have a good game battling the injury, so I will take the Lions here.
Lions (-10)
Bears vs. Broncos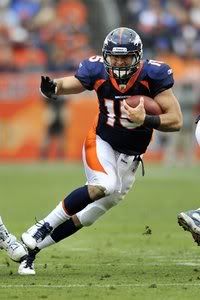 The Broncos are favored in this game by 3.5. I think this is just about where this game is going to be. I am taking Tebow again, of course, but I do think it will be close. The Bears have a great defense so Tebow will have to find ways to pick it apart and confuse them. If the Bears get to Tebow more often than he can escape them, then the Bears will win this game, but I think that Tebow will be able to make a few big plays and win this one. It helps that Chicago is without a QB and without Forte. Forte is a huge loss for them and without him, the rushing duties fall on Marion Barber. He will have a good game, but not good enough to carry them to victory. I think that the Broncos are going to have to start embracing that they are a good team, and they are going to start beating teams before they get to the fourth quarter. This might be their chance to do that at home against the depleted Bears. I think the Amazing Tebows do it again and grab a firm hold on the AFC West.
Broncos (-3.5)
Chiefs vs. Jets
The Jets need to keep winning to keep their playoff chances alive. Sanchez and the Jets were able to get through some rough spots in Washington last week, and hold on for the victory. They seemed to start to click at the end of the game, so hopefully it carries over into this one. The Jets however always make it interesting. But the Chiefs offense right now is so bad, that it is hard to think the Jets will not win by at least 10. Sanchez is starting to find Holmes again, and this is pivotal to New York's success. Greene returned to his playoff form last week, with 3 TDs. If he has gotten his groove back then they Jets will win this game easily. Greene and Sanchez seem to do better when the pressure is on, and at this point in the season, the pressure is certainly on. Even if the Jets win out, they are not guaranteed a playoff spot, so it is essential that they win the games they need to win. This one should allow them to figure some things out, but they have to stay focused, and not overlook this game, with a game in Philadelphia looming next weekend.
Jets (-11)
Colts vs. Ravens
Ravens are 17 point favorites in this one. The Colts won't win this game, but they won't lost by 17 either. Flacco is not that explosive of a quarterback to make it a guaranteed blowout win. The Ravens are playing to keep in front of the Steelers for the division. A loss would put then behind them, and a win will match the Steelers 10-3 record, thus keeping the Ravens in first due to the tiebreaker.
Colts (+17)
Texans vs. Bengals
The Bengals are starting to tire out it seems. They are a young team with Dalton at QB, and Green leading the way at WR. The Texans are going to rely heavily on Foster and Tate in this one, and Foster will play a big role in the passing game as well. As it stands now, both these teams would make the playoffs, but coming down the stretch, the Bengals really need wins. They have 3 teams tied with them and as long as they keep winning, they will make it. I think that Yates has been decent at QB for Houston, but I think he will check down to Foster a lot in this game, and they will be able to pull out the win. I have been picking the Bengals all year, but I think they are showing signs of fatigue and the Texans have the running game to beat the Bengals on the road in this game.
Texans (+3)
Saints vs. Titans

The Titans are in the middle of a playoff race for the last spot in the AFC. They currently sit in a 4 way tie with a 7-5 record, but are in 7th as of now, one spot out of the playoffs. They sit behind the Bengals, who look a bit tired, and might give some ground here in the final few weeks. The Titans have an easy schedule going forward, but they need to get this game at home. Chris Johnson has suddenly found his form of a couple years ago the last couple weeks, and has made the Titans very relevant in playoff talks. They even have an outside chance at their division if Houston loses some games down the stretch. They have a real test this week with New Orleans coming in red hot. They have won four in a row, and are staking their claim on the NFC South. They are without Ingram this week, but they have Sproles. Sproles plays a huge role in the backfield when it comes to making catches and will now get a few more carries in the rushing department. The biggest advantage for the Saints? Drew Brees. In his last 3 games, he has put up 322, 363, and 343 yards starting three weeks ago in Atlanta. He has 9 TDs during that stretch and
no
interceptions. He is playing at a very high level and I think they he will be able to go to Tennessee and have another huge game. I like the Saints because of the Brees factor.
Saints (-4)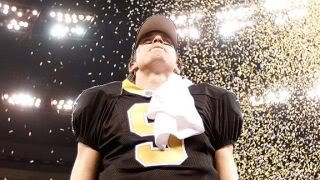 http://i272.photobucket.com/albums/jj180/nvick/brees.jpg
Eagles vs. Dolphins
Dolphins continue to play hard for Sparano, sensing his job is on the line. The team is clicking and it is hard to pick against them. They are the favorites in this one, as both teams enter with a 4-8 record. The Eagles have extra rest this week, after their embarrassing loss to the Seahawks last week, but I think the Dolphins still have the advantage in this game.
Dolphins (-3)
Patriots vs. Redskins
I think this game will be closer than people think. The Redskins are playing a lot better with Grossman at QB. Moss is going to have a big game Sunday against the Patriots with Davis not playing while he is suspended. The Patriots will win the AFC East, and Washington will not make the playoffs, but I do think the Redskins will play hard and put up a good amount of points against New England at home. The Patriots have been playing great football and are due for a close game every now and then. Redskins play them tough in this one, and keep it within 9.
Redskins (+9)
Falcons vs. Panthers
Falcons are coming off a loss in Houston, in a game that saw Matt Ryan have a very uncharacteristic game. He started very slow which allowed them to fall behind and they couldn't recover. Atlanta now sits in the last playoff spot in the NFC and will need to win these games coming up. The Giants and Detroit are trying to claim a spot, so they need to keep up with their game. The Panthers are coming off two straight road wins and Cam Newton is playing at a high level right now. I think they play this game very close, maybe even can get a win here at home against Atlanta. I think Newton has the tools to win, he will just need a little bit of help from the bad defense of the Panthers.
Panthers (+3)
Buccaneers vs. Jaguars
This is going to be a rough game to watch. The Bucs are the better team though, they just are not putting up the wins this year. The Jags came out strong last week on Monday Night Football against the Chargers, but quickly lost the lead and got blown out. They are not better than the Bucs, and I think the Bucs win this game on the road against Jacksonville.
Bucs (-3)
49ers vs. Cardinals
The Cardinals should have lost last week, but won in overtime against Dallas. Arizona did play a great game to keep it manageable against Dallas, but I think the 49ers are playing on another level right now. They are storming through the NFC, and I think they go into Arizona and win this one easily.
49ers (-4)
Raiders vs. Packers
The Packers are playing great and the Raiders are still without McFadden. Moore and Ford are going to be out another week, so Palmer does not have many weapons once again. The Packers are coming off the exhilarating win in the Meadowlands against the Giants and now return home to Lambeau in December. This has all the makeup to be a blowout, even with the Packers being without Starks this week in practice. The Packers are on their way to a perfect regular season, and this game won't have any hiccup potential for them. Rodgers picks apart the Raiders in this one, and has another great game.
Packers (-13)
Bills vs. Chargers
The Bills continue to lose, as they have lost 5 straight games and 7 of their last 9. They are going to San Diego to play a Chargers team that dismantled the Jags last week. There might be a lot of points scored in this game, but with jobs on the line in San Diego, I think the Chargers finally put some heart into their game and win this one at home. Rivers and Mathews were way too good on Monday night to think that they won't continue against a bad Bills defense.
Chargers (-7)
Check back for my Monday Night Football pick!