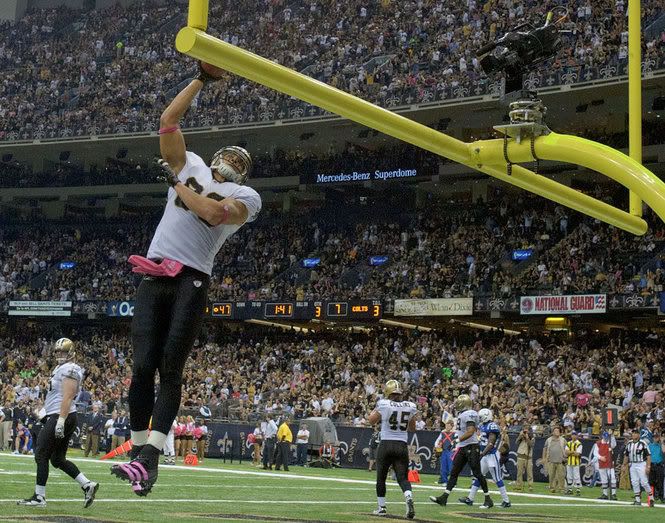 http://i15.photobucket.com/albums/a380/Rebelxguitarstar/Awesomeness/New%20Orleans/Saints/10177078-standard.jpg
Giants vs. Saints
The Giants could not get to Brees, and therefore did not stand a chance in this one. Brees tied the NFL record for most 350+ yard games in an NFL season at 6 as he put up 363 yards. He also became the first QB ever with 4 TD's, no picks, 350+ yards, 60% completion, and a rushing TD in the same game. Eli put up 406 yards, but most of these yards were coming from behind, when they were playing catch up. Cruz had 9 catches for 157 and 2 TDs for the Giants. Graham led the Saints with 84 yards and 2 TDs, and survived a crushing hit. It looked bad, but he got up from it thankfully. The Giants need to straighten themselves out if they have any hopes of the playoffs. They face the Packers next week...good luck.
Giants (+7.5) Loss
Bills vs. Jets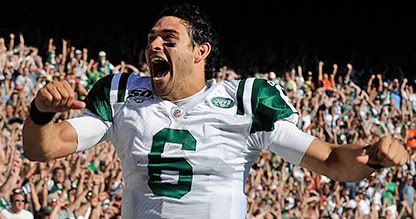 http://i572.photobucket.com/albums/ss170/w1ta5/new-york-jets-mark-sanchez.jpg
Jets needed a win to stay in the playoff hunt and they needed to dig deep a few times to get it. I thought that they would destroy Buffalo this week, because in the last year they have been able to put away teams they should...but not in this one. I kept thinking of the game against the Jags this year that they won 32-3, and really believed it would be a game like that. It wasn't however. The Jets did do exactly what I predicted they would need to for a victory however. They went back to using the Mark Sanchez safety blanket from last year: Dustin Keller. The first two passes of the game were intended for Keller. You could tell Sanchez wanted to get back to that game plan. After the Jets fell behind 7-0, Sanchez found Keller in the endzone for the Jets first score of the game. The game was tied 14-14 at halftime, and after the Bills punted in the first drive of the second half, Sanchez and the Jets took the field. The Jets ran the ball the first four plays, before Sanchez hit Keller for a 22 yard completion. Two plays later, he connected with Keller again for an 18 yard touchdown. The Jets would go on to lose the lead and fall behind 28-24. The Jets final drive started with under six minutes remaining in the game. They converted a 3rd and 8 to keep the drive going and then had to convert a 3rd and 11 at the Bills 36 yard line. Sanchez connected with Burress for 18 yards before ending the drive in the endzone on a 16 yard touchdown to Santonio Holmes with 61 seconds left. The defense allowed the Bills to drive to the 27 yard line. A three yard pass brought them to the 24 yard line, where they had three chances and 15 seconds to win the game. After blown coverage and a bad throw to a wide open receiver in the endzone, the Jets were able to hold on to win in game they needed. This game was not pretty, but it might propel them to another streak to end the season. They are currently in 8th place in the AFC standings, and have very winnable games to end the season (@Wash,KC,@Philly,Giants,@Miami). If this team believes they are a playoff team, then they must win every game, seeing as their only challenge should be the Giants in a split Meadowlands.
Jets (-9.5) Loss
Vikings vs. Falcons
Atlanta handled a Peterson-less Vikings team at home fairly easily 24-14. Matt Ryan threw for 262 yards, 3 TDs and 0 picks. Roddy White caught 10 passes for 120 yards and a touchdown. Tony Gonzalez also had a big game, 9 for 69 yards. Atlanta currently holds the last playoff spot in the NFC. They are a half game behind New Orleans for the NFC South. They lost to the Saints the first time they played this year 26-23, after going for a fourth down in their half of the field. They meet again in week 16.
Falcons (-9.5)
Win
Browns at Bengals
The Bengals had to rally from 20-10 down late in the 3rd quarter to pull this one out, 23-20. Far too close of a game after losing by only a touchdown against Pittsburgh and Baltimore back to back on the road. A.J. Green returned with a solid game, 3 catches for 110 yards and Cedric Benson had a nice day rushing, 21 attempts for 106 and a touchdown. Just enough for the Bengals to win, but not to cover.
Bengals (-7)
Loss
Bucs vs. Titans
This game was tied 10-10 at halftime. The Bucs had the lead going into the 4th quarter, but Tennessee scored 13 unanswered points to win the game. Tampa Bay was only 2 for 10 on 3rd downs. Tampa utilized Blount in the passing game early, with 3 catches for 56 yards. However, after losing a fumble, he wasn't thrown to again. If he is lucky he catches one a game, so three was a lot for him. He did have a solid game, adding 103 yards on 20 touches in the rushing game, but it wasn't enough to hold on in the 4th quarter, as Chris Johnson had a huge game. In what has been a complete bust of a season for Johnson, he broke out, 23 carries for 190 yards. Considering Hasselback'sBucs continue to slide, losing 5 in a row, while Tennessee continues to stay in contention for a wild card spot or the division, should Houston falter down the stretch.
Bucs (+3)
Loss
Panthers vs. Colts
Cam Newton claimed his first road win against a winless Colts team. When the Panthers had a 45 yard field goal blocked at the end of the first half, I felt it might turn into another case of the Panthers giving away a game they should win. The Panthers came out and stopped the Colts on the first play of the second half, and Newton led them down field in a drive that ended with a DeAngelo Williams 25 yard TD run. Carolina never looked back and they held on for the 27-19 win.
Panthers (-3.5) Win
Cardinals vs. Rams
In a battle of bad teams, the Cardinals used a 17 point 3rd quarter to beat the Rams 23-20. I keep believing that Bradford will turn it around, but I think it is evident that this is not his year. He did not have a terrible game, but he could not get the win in this one. He went 17/31 with 203 yards and a TD. Bradford did not have much help from Steven Jackson in the running game today. Jackson carried 17 times for 64 yards. On the other side of the ball, Beanie Wells broke out for 228 yards and a TD. He had a 71 yard run where he was tripped up 11 yards short of the endzone. It was a good day for Wells, another bad day for Skelton, 114 yards and 2 picks, but the Cardinals won behind Beanie's huge day.
Rams (-2.5) Loss
http://i275.photobucket.com/albums/jj319/slikkid329/branch.jpg
Patriots vs. Eagles

The Patriots fell behind early before coming back to blow out the Eagles 38-20. Vince Young (26/48, 400 yards) started the game with a 22 yard completion, followed by a 58 yard strike to Riley Cooper. McCoy would run it in for the TD. Young started the next drive much like the first one, with a deep pass of 44 yards, but the Eagles would settle for a field goal on that drive, and this seemed to slow them down and allow for Brady and the Law Firm to get it going. They would score a TD behind Green-Ellis, force the Eagles to punt, and then Brady did his thing again. A 63 yard pass and catch for Branch to the 1 yard line, followed by a 1 yard TD by BGE, and the rout was beginning. When Young began the next drive with an interception, it was all but over. Brady found Welker for a 41 yard TD two drives later. Brady went 24/34, for 361 yards, 3 TDs, and 0 INTs. Welker (8/115, 2 TDs) and Branch (6/125) looked great in this one, as Gronkowski was held in check (4/59, 1 TD). Hernandez had more catches and was targeted more by Brady (6/62) in this one. The Patriots are in first in the AFC East and are currently in second overall in the AFC.
Eagles (+3.5) Loss

Texans vs. Jaguars
Houston is still atop the AFC standings after beating the Jags. In a terrible turn of events however, they are not only without Schaub, but now without Leinart who broke his collarbone, and is potentially done for the season. The QB duties now fall on North Carolina alum, T.J Yates. Leinart was 10 for 13 for 57 yards and a TD before leaving the game. Yates entered going 8 for 15 for 70 yards. This week should be interesting, as we watch to see if Yates will be joined by a veteran free agent in practice or if the Texans trust the rookie to lead them into the playoffs. They might let Yates stay behind center because of the amount of talent they have at running back, and the weapon that Andre Johnson is downfield. If Yates can air it out, he might connect with Johnson for some big plays, although Johnson was held to only 2 catches for 22 yards in his return. It still might be a good idea to bring in someone for insurance to install more fear in defenses against their passing game. Foster only went 22 for 65 yards rushing today and Tate only had 5 carries, but racked up 26 yards. It is going to be interesting going forward, but they got the job done in this one, and are one step closer to winning the division.

Texans (-6.5) Win
Bears vs. Raiders
Janikowski kicked the Raiders to the 25-20 win in this one. He kicked two field goals in each of the first three quarters (40,47,42,19,37,44), and Michael Bush sealed the game with a 3 yard TD run in the 4th. Palmer threw for 301 yards with one interception. Matt Forte had a subpar game, only getting 12 carries for 59 yards and 6 receptions for 25. Marion Barber saw 10 carries for 63 yards. Forte was not able to put up huge numbers because of the split with Barber. Hanie, Cutler's replacement, went 18/36 for 254 yards, 2 TDs and 3 INTs. He also ran 5 times for 50 yards. It was not a terrible game, and with another week of practice, I expect the Bears to continue to keep games close. Oakland has to keep the foot on the gas, with Tebow only one game behind them for the AFC West title.
Raiders (-3) Win
Redskins vs. Seahawks
Washington put up 16 points in the 4th quarter to come back and beat Seattle 23-17. I felt that Grossman would air it out in this one, and he did, completing 26 of 35 passes for 314 yards, 2 TDs, and 2 picks. Helu had a great game in the backfield as well, 23 carries for 108 yards and a TD. For Seattle, Lynch continued a 4 game stretch in which he has averaged almost 111 rushing yards a game. It was not enough in this one though as the Redskins came back for the win.
Redskins (+3) Win
Broncos vs. Chargers
TEBOW TIME. Read my article about Tebow to see how I feel about this guy. In short, he is awesome. Just keeps impressing everyone and pushing towards the playoffs. He is 5-1 this year now as a starter with a 16-13 win in San Diego. He started the game 0 for 4, before going 9 for his next 14. He led the Broncos to another 4th quarter comeback, and an overtime victory. He set a record for most QB rushes by a QB since 1970 with 22. The Broncos were down 10-0 before Tebow connected with Decker for an 18 yard TD in the 2nd quarter. In the 4th quarter, while trailing 13-10, with just over 5 minutes left (again), it was Tebow time. Looking at a 3rd and 11 on their own 25, he hit Decker for a 39 yard gain. Two plays later, he would hit Rosario for 23 yards and take the ball to the San Diego 12 yard line. They would get a field goal to tie the game, and hold off San Diego to get to overtime. The Tebows, I mean Broncos, won the toss, and went three and out. But not before a tough decision by John Fox. The Broncos had a 4th and 1 on the 45, and they elected to punt it, instead of letting Tebow go for a yard. It turned out to be a good call, as they forced the Chargers to go three and out. After Tebow looked to have enough for a first down on a 3rd and 11 pass, replay would overturn it, and once again force the punt on 4th and 1. The Chargers drove down field, and on a 3rd and 6, lost four yards, to set up a 53 yard attempt by Novak. The attempt was blocked, but the Broncos called a timeout, therefore giving San Diego another chance. The kick went wide right, as Tebow was on the sidelines, head down, on one knee. Tebow took over and ran for 12 yards, followed by a 4 yard run. This opened up a running lane in the middle for McGahee (23/117) and he gained 24 yards. Tebow would take the next snap and center it for a game winning 37 yard field goal by Prater with 29 seconds left in overtime. Another game, another comeback, and another thrilling win for Tim Tebow.
Broncos
(+6) Win


Steelers vs. Chiefs
The Chiefs would not go away in this one, as it came down to the final seconds of this one. The Steelers would win 13-9, but the Chiefs had the ball with under one minute left in the game, and Palko was intercepted to end it. The Steelers sit in 5th place in the AFC playoff standings, but can win the division should they win one more than the Ravens down the stretch.
Steelers (-10.5) Loss

My Sunday record: 6-6
Thursday and Monday record: 0-4
Week 12: 6-10