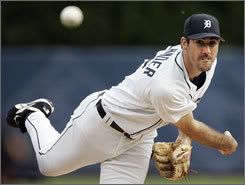 http://i134.photobucket.com/albums/q119/kevinearlie/verlander.jpg
Not only did Justin Verlander dominate the entire American League this year, but he dominated the major awards as well. Last week he won the AL Cy Young, and today he received 13 of 28 1st place votes, three 2nd place, and three 3rd place votes, to claim the AL MVP Award. He is the first starting pitcher to win the AL MVP since Roger Clemens in 1986. All of the debate over whether a pitcher should take home the award was put to rest as he claimed 280 total points for the award. Ellsbury finished second with 242, Bautista finished 3rd with 231. Granderson finished fourth with 215, followed by Miguel Cabrera at 193. Verlander finished the year 24-5, with a 2.40 ERA, 250 strikeouts, and a 0.92 WHIP...A dominant year that also included a no hitter.
As I watched Verlander this year it was hard to imagine him not winning the Cy Young. And as the year went on, the MVP talk began to get louder. I watched him throw 100+ mph fastballs past hitters...in the 9th inning. He had a season that we do not see very often, and it should be celebrated and acknowledged. Most of the year, it looked as though Granderson and Ellsbury would be fighting for the award, but with a cold September for Granderson, and a dipping batting average, he seemed to lose some ground. Ellsbury was not helped by the monumental collapse of the Red Sox in September, even though he continued to hit well. Verlander however, led his team to the division title, and in the midst of the season, rolled off a 12 game winning streak.
I have no problem with a pitcher winning the award, although they only take the ball every fifth day. If they put up numbers like Verlander did, then it is extremely hard to discount the fact that he is not an everyday player. He was just as important to his team than any player in baseball, and that is what the award is all about. No matter how impressive his numbers were this year, they still do relay how dominant he was this year. If I did not watch his performances, then I might have another opinion on him winning the award, but watching the unbelievable strength he had, and his ability to gain velocity as the game went deeper, make his numbers that much more impressive. Verlander compiled a season that will be talked about for a long time and deserves the awards.